TOSHIO SHIMIZU ART OFFICE
ABOUT
TOSHIO SHIMIZU ART OFFICE is an art consultant office with the mandate to create a close relationship between art and people, mainly through providing excellent public arts.
Connecting People, Connecting Cultures, Connecting Communities
Art enlarges its places in the 21st century to schools, stations, hospitals, parks, offices, and shopping malls, etc.  We believe that art can bring more human perspectives to the urban environment.  Our goal is to create comfort and aesthetic values in every aspects of our everyday lives through the power of art.
Toshio Shimizu Professor at Gakushuin Women's College, Art Director, President of TOSHIO SHIMIZU ART OFFICE
4 PHILOSOPHY
Creating New Space for People to Encounter Art
TOSHIO SHIMIZU ART OFFICE produces artworks in offices, schools, stations, squares, shopping malls, hotels, and condominiums so that people can enjoy art in everyday life. Art offers us comfort, healing, and joy in various scenes of our lives.
High Quality Art
TOSHIO SHIMIZU ART OFFICE offers artworks of high quality through careful selection of artists and artworks, severe quality control over the production process, highly dependable maintenance, and aftercare service to satisfy clients' needs.
Consultation on branding by art and design
TOSHIO SHIMIZU ART OFFICE consults on branding of cities, companies, schools, administrations, etc, from the point of view of art and design, offering total consultation service from research, creation of brand image to management of branding.
International Network
TOSHIO SHIMIZU ART OFFICE takes full advantage of its international network to provide new aspect of culture to the world.
Total Consultation and Production of Public Art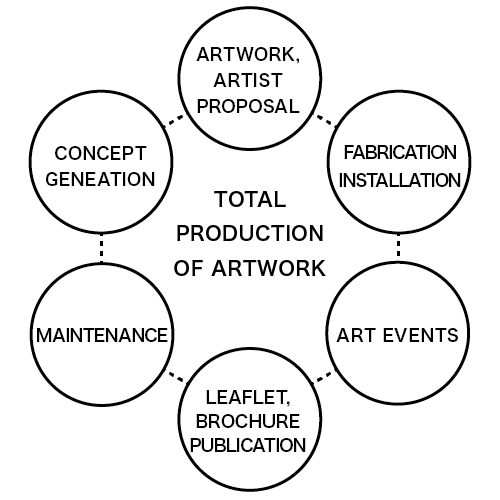 Toshio Shimizu has worked with many eminent artists in Japan and abroad as a leading curator of contemporary art for the last twenty years. He uses his worldwide network to select the best artists to direct high quality artworks. Toshio Shimizu Art Office works closely with experts in such areas as urban planning, architecture, landscape, and engineering to create spaces for public art that enhance the beauty of the architectural environment.
Art Consultation
Our expert staff research and plan art projects and art collections for local government, non-profit organizations, corporations, museums, private collections and galleries.
Consulting Service for Private and Corporate Art Collection Consultation on collection research, evaluation, purchase, and maintenance
Consulting Service for Creation and Management of Museum and Galleries.
Production of Art Programs
We produce art events for communities and commercial venues to energize the urban environment.
Planning, Organizing, and Executing Art Events
Planning, Organizing, and Executing Art Exhibitions
Planning, Organizing and Executing Symposiums, and Educational programs
Branding and Public Relations
Utilizing our worldwide network, we do branding of cities, cultural facilities, and companies and public relations consultations to coordinate effective media strategies.
Consultation on branding
Publications
Publicity
Art Goods